Every single day, Hillel Smith uses math to create art. It's not "fractal art" or computer-driven design. He simply needs math to produce the art itself—everything from huge outdoor murals to inflatable sculptures. 
"At a basic level, having an understanding of geometry is practical, making things at a size that can be framed, or knowing how far a can of paint will go," he said. "The challenge is working with projects that require a higher level of art thinking, such as my pixelated pieces and some of the mural projects. I do a lot of 'solving for X,' dimension analysis, ratios and proportions, fractions, and unit conversions."
As a child, Hillel was a strong math student. Obsessed with space and airplanes, he used Lego®, TinkerToy®, Marbleworks®, 3D puzzles, and origami paper to build his structures. He loved the experience of problem solving, and when he got to high school, he took both A.P. Calculus and A.P. Physics.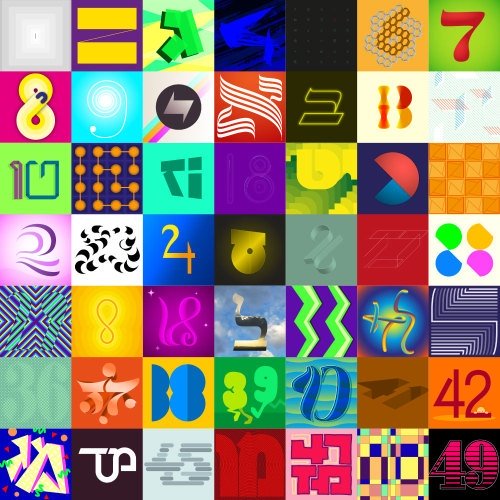 Hillel created 40 animated .gifs about counting, using Hebrew and Arabic numerals.
"I like systems and find that once I understand how the system works, it feels very intuitive," he said. "Once I can visualize what's happening—with a differential equation or calculating the volume of a rotating curve in three-dimensional space—it becomes easy for me: Just plug in the numbers. In another life I could have been an aerospace engineer!"
Instead, Hillel attended the University of Pennsylvania's Visual Studies Program, which approaches art and design through the multiples lenses of history, philosophy, psychology, and fine arts. After graduation, he spent nine years as a freelance graphic designer. Today, he is also an artist, marketing consultant, illustrator, author, and teacher. Many of his clients are non-profit organizations and educational institutions.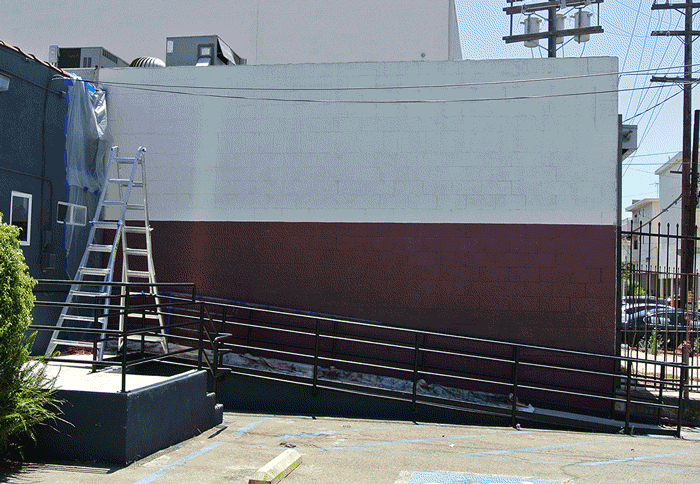 Time-lapse of a mural created in Los Angeles to celebrate the local Jewish community.
Hillel's specialty is combining typography and trends in digital design and street art with his background in Jewish text and tradition. No wonder, then, that luxury fashion house Fendi recently chose him to be one of six street artists to collaborate on "The Ring of The Future," a massive "calligraffiti" painting on the roof of its corporate headquarters. עתיד" ("atid"). Part of Fendi's "F is For…" campaign, the Ring celebrates "universal creativity and boundary-blind art."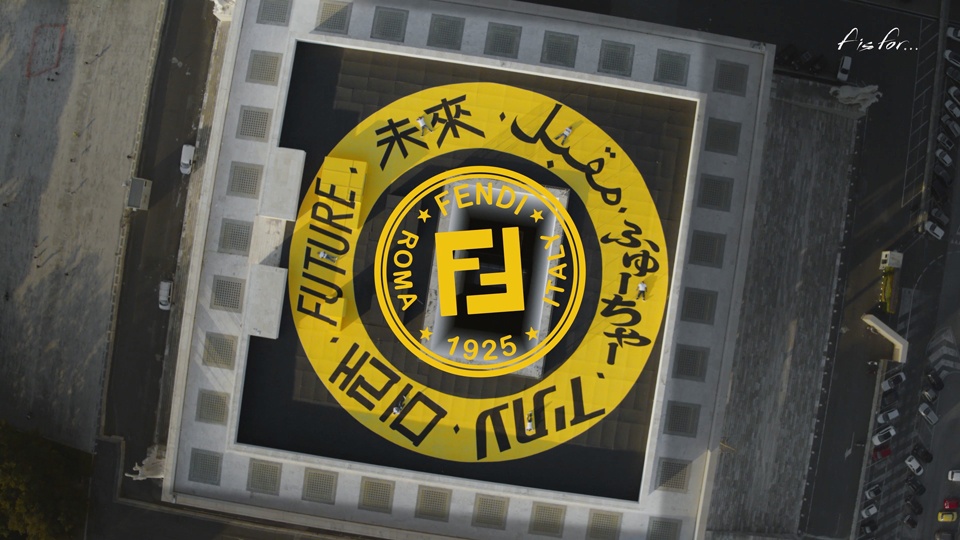 "The Ring of the Future," a "calligraffiti" painting on the roof of Fendi's headquarters. (Photo: Fendi)
Hillel used a lot of geometry, arithmetic, and algebra to scale his design from a small printout up to 12 ft.-tall letters, while keeping the proportions intact, the lines parallel, and the spacing even.
"I'm a very detailed and finicky artist," he said. "I like when my finished piece looks exactly like my original sketch, and the only way to accomplish that is to be meticulous about dimensions, proportions, detail, and to be very careful with measurements—figuring out at the beginning how it will all work. That's where my designer brain meets my art brain. Planning, organization, hierarchy—my math brain—they're important in design. The 'art' is the experiential, freewheeling, creative, organic part."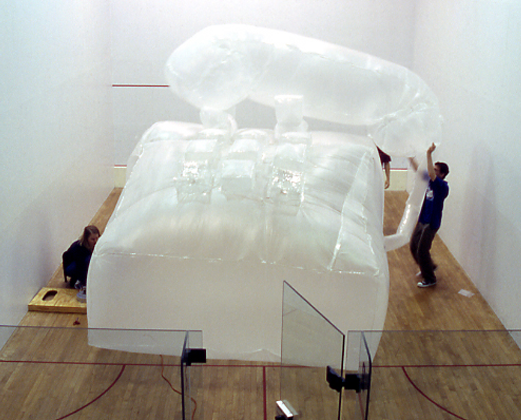 Inflatable telephone made of plastic sheeting and packing tape. Hillel is on the right.
Hillel splits his time between his native Los Angeles and Washington, D.C., but his work can take him anywhere—both physically and professionally. "I find myself in a really good place, making interesting and challenging pieces for organizations whose missions are important and necessary. The client-based work is enjoyable and meaningful, and thankfully, I have the opportunity to make my own art on the side and put it out in the world."