The Mathnasium Method™ Is Now Available from the Comfort and Convenience of Home
"My daughter loves her @home experience. She said it's really great to do her math at home, and she is able to get a lot done in each session. Great job, Mathnasium@home!!" — Ed F.
Parents have long asked how they can get Mathnasium's math tutoring remotely, either from home or elsewhere. The question for us was, how can we provide families with the math tutoring support they need at home, without sacrificing the face-to-face interaction that is the heart and soul of the Mathnasium Method™? That question is even more critical now that most children have to learn entirely from home.
We're so excited to share that, after years of development, we can now give families all over the world precisely what they want and need: Mathnasium@home. We launched the pilot program in 2017 and tested it with thousands of students and tens of thousands of sessions. Since the 2020 expansion began, families have flooded us with questions about how the service works and how they can sign up! We answer some of your most frequently asked questions below.
---
Q: What is Mathnasium@home?
Mathnasium@home is the same face-to-face math instruction used in our centers for over 15 years, delivered in real time through your computer.

Q: Will my child have the same instructors and experience as they would at my neighborhood Mathnasium Learning Center?
Yes! The same highly trained, caring instructors that work in the center will work with your child using Mathnasium@home. They'll use the same Mathnasium Method™ our customers know and love, tailored to your child's exact educational needs. Mathnasium@home even includes our fun rewards program.
Q: What do I need to use @home?
All you need is a computer that has a microphone and an internet connection. That's it!
"We love Mathnasium. It was a tremendous help with my girls, and we enjoyed Mathnasium@home from the comfort of their rooms. I always recommend Mathnasium and wish I would have found it sooner." — Angela P.
Q: When will my local center offer @home math tutoring?
Wherever you are, there's a Mathnasium Learning Center that can deliver Mathnasium@home to your home. If you're an existing customer, please connect with your center director. New customers can use their ZIP code to find a center offering Mathnasium@home. We'll also be making @home available in the U.K., U.A.E, Australia, Hong Kong, Vietnam, Bahrain, Oman and India.
Q: Does it work as well as in-center learning?
Definitely. We tested @home with thousands of students, who found it to be just as effective as in-center learning. They will gain confidence, boost their grades and scores, learn critical thinking and problem-solving skills, and gain a real understanding of how math works that will help them in school and life.
Q: How is Mathnasium@home different from other online math tutoring?
Unlike other online tutoring services, Mathnasium does not use pre-recorded videos, teach a large group of children at once (classroom style), use untrained math tutors, instruct using rote memorization or mindless algorithmic practice, or offer automated drills or games.
Instead, Mathnasium@home delivers the same live, expert math instruction we pioneered in 2002. Mathnasium@home offers:
Live, face-to-face instruction
Focused interaction between instructor and student
Instructors fully trained in the Mathnasium Method™
A personalized learning plan for each student
True math comprehension rather than rote memorization
Live, personalized instruction is simply the most effective method for teaching math in a way that children enjoy. It's the only way we teach, regardless of where learning takes place.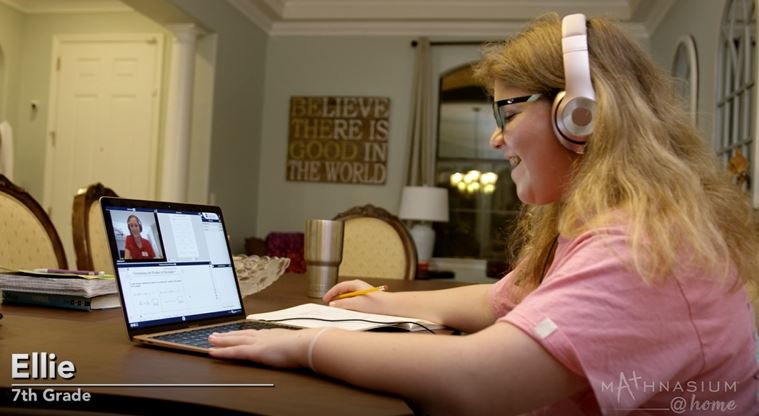 Q: Do I have to be enrolled at Mathnasium to have Mathnasium@home?
The @home service is available to both current and newly enrolled students. New students enroll through their local learning centers, either in person or online.
Q: How much does Mathnasium@home cost? How many sessions do you include?
Mathnasium@home provides the same great value and costs the same as standard enrollment with your learning center. Children typically attend 2-3 times per week. Only the delivery method changes.
Q: My child is new to Mathnasium. How can they get started?
Contact your local learning center to schedule an assessment. If your local center is physically open, you'll bring your child in to meet the center director. If not, the assessment will occur over the internet. Either way, the same, comprehensive assessment will pinpoint your child's exact strengths and weaknesses.
Q: Why is Mathnasium@home launching now? Does it have anything to do with the COVID-19 pandemic?
Development of Mathnasium@home began more than three years ago to address the needs of families who couldn't bring their children regularly into the centers due to busy school-year schedules, geographical distance, vacation or home-schooling. After successful testing, we planned to make it available to learning centers gradually throughout 2020. When public health concerns suddenly required that students stay at home, we expedited the rollout so that students could continue without interruption.
Q: How has the initial response been to the service?
We've far exceeded expectations. Families love the convenience of @home, and they're especially grateful for this option now that their kids are out of school. 
Kids show keen interest in learning and progress … And in this hour of pandemic, we are very happy with the online classes. I definitely recommend and will continue with Mathnasium for my kids. — Maninder K.

Q: Can my child return to in-center learning after the stay-at-home period is over?
Absolutely. Your Mathnasium enrollment is valid for both in-center and @home learning, and you can choose to continue with @home or transition easily to the physical center.
---
To learn whether Mathnasium is right for you, or to find the nearest center offering Mathnasium@home, visit mathnasium.com/at-home.